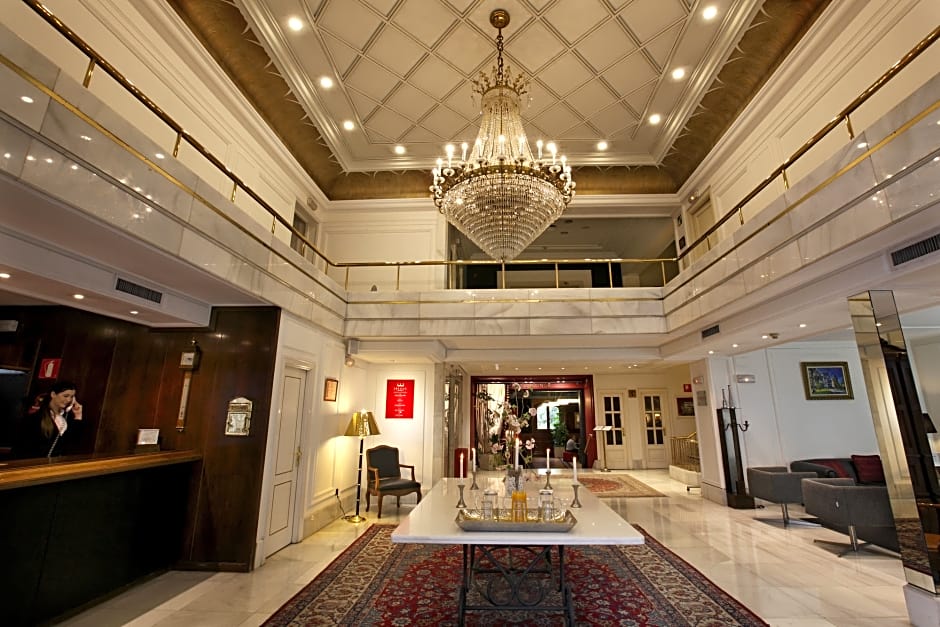 Idyllically located in northern Spain's Basque country — in the culturally-rich city of Bilbao — Hotel Ercilla Lopez de Haro is in proximity to an impressive selection of remarkable landmarks including Guggenheim Museum Bilbao, Bilbao Fine Arts Museum, Plaza Moyua, Arriaga Theater, and Dona Casilda Iturrizar Park.

Accommodation
Along with five-star luxury, the stylish abodes of Hotel Ercilla Lopez de Haro provide a wealth of contemporary items that encourage guests to feel right at home like premium satellite channels, direct-dial telephone, refrigerator, air conditioning with climate control, and windows that open. What's more, perks in the form of complimentary newspaper and designer toiletries, minibar, slippers, bathrobes, pillow menu, together with welcome amenities facilitate convenience and satisfaction. Additionally, wireless Internet access and in-room childcare are obtainable upon request.

Hotel Facilities
Vacationers of Hotel Ercilla Lopez de Haro are privy to a number of on-site amenities such as The Lounge, which serves mouth-watering breakfast, lunch, and dinner menus, 24-hour in-room dining options, chic bar/lounge, and first-rate banquet facilities where wedding services and event catering can be organized. This business-savvy establishment also features audio-visual equipment, 24-hour business centre, business and translation services, as well as well-appointed conference room. Moreover, patrons are afforded currency exchange, tour/ticket assistance, dry cleaning/laundry provisions, luggage storage, not to mention 24-hour front desk support.

Transportation
Hotel Ercilla Lopez de Haro is ideally within walking distance of celebrated restaurants, striking cultural sites, and a plethora of leisurely pleasures. Furthermore, Bilbao's airport is merely 5 kilometres away from this centrally positioned inn.
ゲストレビュー
自分の意見や感じたことを教えるためにはこちらをクリックしてください >>
予約する方法
Hotel Lopez de Haroで予約するのが簡単で安全でございます。ご希望の日付を選択します。そして、フォームを送信するために「料金を確認し」というボタンをクリックします。 客室タイプと料金はお宅の画面に戻った後で、画面の中央にある部屋の情報を読むと画面の右側にある「予約する」というボタンをクリックすることによって希望の料金を選択することができます。希望の客室タイプを選択した後で、「ご予約を完了」というフォームに転送されます。その時に「滞在の詳細」を確認して、「ゲストの詳細」という部分の空欄でご自分の詳細のことを書きます。ご自分の名前とメールアドレスが正しく入力されていることを確認してください。 すべての重要な情報を記入した後で、「ご予約を完了」というボタンをクリックしてください。ご自分のセキュリティを確保するために、私たちがクレジットカード番号を暗号化し、非使用可能な形式にエンコードする安全なコマースサーバーを使います。
地域情報
空港

Bilbao, Spain (BIO)

- 3.06 mi

Vitoria, Spain (VIT)

- 28.20 mi

Santander, Spain (SDR)

- 46.22 mi

San Sebastian, Spain (EAS)

- 57.54 mi

ミュージアム

Bilbao Fine Arts Museum Museo de Bellas Artes

- 0.36 mi

Guggenheim Museum Bilbao

- 0.37 mi

Guggenheim Museum

- 0.37 mi

Museo de Bellas Artes Bilbao

- 0.38 mi

Euskal Museoa Bilbao Museo Vasco

- 0.62 mi

Museo de Reproducciones Artisticas

- 0.64 mi

Maritim Museum Ria de Bilbao

- 0.86 mi